IN A boost for the Aam Aadmi Party (AAP) ahead of the Lok Sabha elections next year, the Election Commission (EC) recognised it as a national party on Monday. The Trinamool Congress (TMC), Nationalist Congress Party (NCP) and Communist Party of India (CPI), however, lost their national party status.
The EC's decision was based on a review of the parties' poll performances — the 2014 and 2019 Lok Sabha polls and 21 state assembly polls since 2014. Besides other benefits, the status of a national party ensures that the party's symbol is reserved for its candidates across the country, and it gets land for an office in the national capital.
The country now has six national parties — BJP, Congress, Bahujan Samaj Party (BSP), CPI(M), National People's Party (NPP) and AAP.
इतने कम समय में राष्ट्रीय पार्टी? ये किसी चमत्कार से कम नहीं। सबको बहुत बहुत बधाई

देश के करोड़ों लोगों ने हमें यहाँ तक पहुँचाया। लोगों को हमसे बहुत उम्मीद है। आज लोगों ने हमें ये बहुत बड़ी ज़िम्मेदारी दी है

हे प्रभु, हमें आशीर्वाद दो कि हम ये ज़िम्मेदारी अच्छे से पूरी करें

— Arvind Kejriwal (@ArvindKejriwal) April 10, 2023
Acting under the Election Symbols (Reservation and Allotment) Order, 1968, which stipulates the criteria for recognition as a national or state party, the EC's order said AAP had fulfilled the requirement of being a recognised state party in four or more states.
According to Paragraph 6C of the order, amended with effect from January 1, 2014, a party will continue to be a national or state party if it fulfils the criteria laid down in Paragraphs 6A and 6B in the "next election", after the one in which it "got recognition".
Explained Politics | What it takes to become a 'national party' in India
Among other conditions, Paragraph 6A states that a state party must get at least 6% of the votes polled in the last Assembly election and at least two MLAs; or 6% vote share and one MP from that state in the last Lok Sabha election; or 3% of the total seats in the Assembly or three seats, whichever is more.
Similarly, Paragraph 6B states that a national party must get at least 6% vote share in four or more states in the last Lok Sabha or Assembly elections and have at least four MPs; or at least 2% of the seats in the Lok Sabha, with its candidates having been elected from at least three states.
* AAP:Besides Delhi, Goa and Punjab, AAP became a state party in Gujarat after the 2022 Assembly elections where it secured 12.92% of the votes.
Advertisement
Reacting to the development, Delhi Chief Minister and AAP national convenor Arvind Kejriwal tweeted in Hindi: "National party in such a short time? This is nothing less than a miracle. Many congratulations to all. Crores of people from the country have brought us here. People expect a lot from us. Today, people have given us this huge responsibility".
* TMC:The EC said the TMC had ceased to be a state party in Manipur and Arunachal Pradesh, though it continued to be a state party in West Bengal and Tripura, and was accorded state party status in Meghalaya on the basis of the 2023 elections.
In its review, the EC found the TMC did not contest the 2019 Lok Sabha elections from Arunachal Pradesh and Manipur, and got 0.40% and 43.28% of the votes in Tripura and West Bengal respectively. In the Assembly polls from 2016 to 2018, the party's vote share was 44.91% in West Bengal, 1.41% in Manipur, and 0.30% in Tripura. In the most recent polls, the party got 48.02% of the votes in West Bengal (2021), and did not contest in Manipur (2022).
Advertisement
A senior TMC leader who did not want to be named said: "We are exploring the legal options to challenge the decision."
* NCP: The NCP lost its state party status in Goa, Manipur and Meghalaya as its vote share was 2.28%, 0.95% and 1.61% respectively, in the Assembly elections between 2017 and 2018. It remains a state party in Maharashtra, where it polled 16.71% of the votes in the 2019 Assembly elections. The party was also given state party status in Nagaland on the basis of the Assembly elections earlier this year.
When contacted, an NCP spokesperson said, "we will comment after studying the order".
* CPI:In the case of the CPI, the EC withdrew its status as a state party in West Bengal and Odisha, while it remains a state party in Kerala, Manipur and Tamil Nadu. In the Assembly elections held from 2016 to 2019, the party's vote share was 0.79% in Tamil Nadu (but it has two MPs from the state), 1.45% in West Bengal, 0.74% in Manipur (but its vote share in the state was 8.27% in the 2019 Lok Sabha election), and 0.12% in Odisha.
During hearings, the CPI had argued that it had contested every election since 1952 and maintained a presence in Parliament. "The Commission finds no merit in the submission that the achievements and contribution made by CPI should be taken into consideration," the EC order said.
Advertisement
"National recognition is of course important from a technical point of view. CPI's recognition is in the hearts of the toiling masses. It is built up with the blood, sweat and tears of the fighting people. The party will intensify its battle for democracy, secularism and socialism," CPI leader Binoy Biswam tweeted.
Most Read 1 Gadar 2 box office collection day 4: Sunny Deol film records biggest Monday collections of all time, nets a total of Rs 173 cr 2 Bigg Boss OTT 2 Finale Live Updates: Elvish Yadav wins Salman Khan's show, Abhishek Malhan shares message from hospital 3 Happy Independence Day 2023: Wishes Images, Whatsapp Messages, Status, Quotes, and Photos 4 OMG 2 box office collection day 4: Pankaj Tripathi-Akshay Kumar film delivers better Monday than opening Friday, earns Rs 55.1 cr 5 Jailer box office collection Day 5: Rajinikanth film set to cross Rs 350-crore mark worldwide on Independence Day
The EC had started reviewing the status of parties in 2019, but the process was halted due to the pandemic.
Advertisement
Meanwhile, the EC also granted state party status to the Lok Janshakti Party in Nagaland, Voice of the People Party in Meghalaya, and Tipra Motha in Tripura, based on their recent poll performances.
Also Read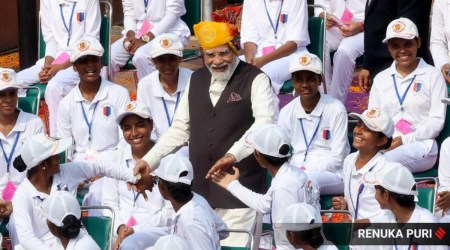 Narendra Modi Independence Day Speech Live Updates: India now identified ...
Govt SOP for Judges: Do not name officials for court panels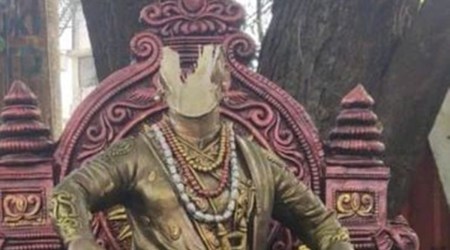 Shivaji statue vandalised in Goa, police initiate inquiry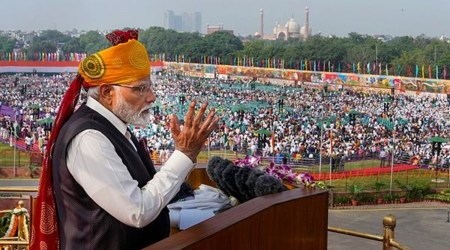 'Will return to Red Fort next year': In Independence Day speech, PM Modi ...
Six others lost state party status — Peoples Democratic Alliance in Manipur, Pattali Makkal Katchi in Puducherry, Rashtriya Lok Dal in Uttar Pradesh, Bharat Rashtra Samithi in Andhra Pradesh, Revolutionary Socialist Party in West Bengal and Mizoram People's Conference in Mizoram.
© The Indian Express (P) Ltd