IN REMARKS directed at China, Union Home Minister Amit Shah said on Monday that "nobody can encroach on even an inch" of India's borderlands or cast an "evil eye" on its territorial integrity. He was speaking at the launch of the 'Vibrant Villages' programme in the border village of Kibithoo in Arunachal Pradesh.
"Our policy is clear. We want peace from everybody. But no one can encroach on even an inch of our territory… The protection of borders is the protection of the country, which is why Prime Minister (Narendra) Modi has made border infrastructure a matter of priority," he said.
Meanwhile, China criticised Shah's visit to Arunachal Pradesh, stating that it violated Chinese sovereignty over the area. Responding to a question, Chinese Foreign Ministry spokesman Wang Wenbin said in Beijing: "Zangnan (China's name for Arunachal Pradesh) is part of China's territory… The activity of the senior Indian official in Zangnan violates China's territorial sovereignty and is not conducive to peace and tranquility in the border areas. We are firmly against this."
#FMsays China firmly opposes the Indian official's visit to Zangnan as Zangnan is China's territory and the visit violated China's territorial sovereignty, and is not conducive to peace and tranquility in the border region, FM spokesman Wang Wenbin said on Monday. pic.twitter.com/YrTQB5EYbn

— China Daily (@ChinaDaily) April 10, 2023
This comes days after India slammed Beijing's move to rename some places in the border state in an attempt to stake its claim over the area.
"The era is gone when anyone could encroach on our lands," Shah said on Monday, adding that nobody can cast an "evil eye" on India because of the security forces protecting the country's frontiers.
Emphasising Arunachal Pradesh's "integration" with India, Shah said: "Whenever I come to Arunachal, my heart gets filled with patriotism, because no one here greets by saying 'namaste', they greet each other by saying 'Jai Hind'. This passion is what has bound Arunachal together with India. In the 1962 war, whoever had come here to encroach, the reason they had to go back was your patriotism. And the country salutes the patriotism of the people of Arunachal."
He said this frontier location was the "first village of India" and not the last, saying the Modi government had brought about a "conceptual" policy change to develop these areas and help the locals living here by providing basic amenities.
"This village is India's beginning… Earlier, people would say that they went to India's last village. But when I return from here, I will tell my granddaughter that I have come from India's first village," said Shah.
Most Read 1 Gadar 2 box office collection day 4: Sunny Deol film records biggest Monday collections of all time, nets a total of Rs 173 cr 2 Bigg Boss OTT 2 Finale Live Updates: Elvish Yadav wins Salman Khan's show, Abhishek Malhan shares message from hospital 3 Happy Independence Day 2023: Wishes Images, Whatsapp Messages, Status, Quotes, and Photos 4 OMG 2 box office collection day 4: Pankaj Tripathi-Akshay Kumar film delivers better Monday than opening Friday, earns Rs 55.1 cr 5 Jailer box office collection Day 5: Rajinikanth film set to cross Rs 350-crore mark worldwide on Independence Day Advertisement
"Before 2014, the entire Northeastern region was seen as a disturbed area, but because of the Look East policy, it is now known for its prosperity and development," he said. He said the Armed Forces Special Powers Act (AFSPA) had been removed from about 70 per cent of the Northeastern states and the day "is not far" when it will be "entirely" lifted from these areas.
Shah said the 'Vibrant Village' scheme envisages that tap water, electricity, cooking gas, financial inclusion, digital and physical connectivity are available in the remote border areas. As part of the 'Vibrant Village' programme, 2,967 villages have been identified for development in 46 blocks of 19 districts along the northern border in Arunachal Pradesh, Sikkim, Uttarakhand, Himachal Pradesh and Ladakh. According to Shah, a population of about 1.42 lakh people in 662 villages will be covered in the first phase. He said economic and employment opportunities will be provided in the villages to prevent migration.
Also Read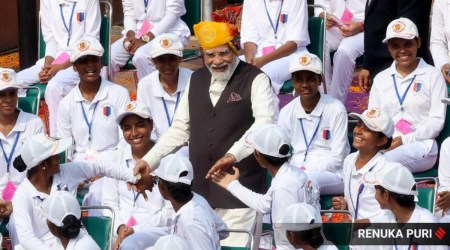 Narendra Modi Independence Day Speech Live Updates: India now identified ...
Govt SOP for Judges: Do not name officials for court panels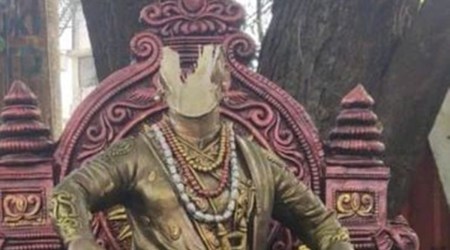 Shivaji statue vandalised in Goa, police initiate inquiry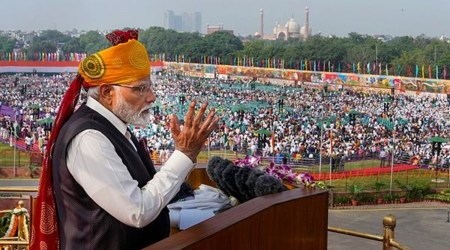 'Will return to Red Fort next year': In Independence Day speech, PM Modi ...
Shah said enhanced facilities for border-guarding troops of the Indo-Tibetan Border Police (ITBP) and Army will also be provided. "Our policy is that no one can challenge the honour of our borders and our forces," he said. —With PTI inputs from Kibithoo (Arunachal Pradesh) and Beijing
© The Indian Express (P) Ltd