The Congress has to be at the centre of any coalition that would take on the BJP in the 2024 general elections and all Opposition parties should be more mindful of sensitivities as well as be circumspect in criticising each other's ideologies in order to build a strong alliance, Rajya Sabha MP Kapil Sibal said on Sunday.
Sibal, a prominent voice in the Opposition ranks, gave a clarion call to all political parties opposed to the BJP-led government to first find a common platform which, he said, could also be his newly-launched 'Insaaf' platform for fighting injustice.
In an interview with PTI, the former Union minister said the leadership question of an Opposition coalition for 2024 need not be answered at this stage and also cited the example of 2004 when the incumbent Atal Bihari Vajpayee government was voted out of power despite the Opposition not having a declared face.
He asserted that the Congress certainly has to be the fulcrum and at the centre of any coalition of Opposition parties that will take on the BJP in 2024.
Asked if the Nationalist Congress Party (NCP) supremo Sharad Pawar's statement backing the Adani Group which is facing allegations jolted Opposition unity, Sibal said, "If you narrow down issues then you will have differences among political parties. If you have a broad collaborative platform which does not deal with narrow issues, the possibility of consensus is much greater." "If Rahul Gandhi has a point of view in the context of crony capitalism in India, I think Sharad Pawar ji would not be averse to a platform relating to crony capitalism, that subsumes individuals. So what we need is to have these broad platforms on the basis of which we can ensure that the Opposition is united," he said.
He said the moment issues are narrowed down problems arise and gave the example of parties having different points of view on a particular legislation.
"You should allow different parties to have different views. We should allow Rahul Gandhi to have a view on an individual and Sharad Pawar also have his point of view. That should not be an example of disunity," said Sibal, who was a Union minister during UPA 1 and 2, and quit the Congress in May last year.
Advertisement
Sibal, who was elected to the Rajya Sabha as an Independent member with the Samajwadi Party's support, recently floated a non-electoral platform 'Insaaf' aimed at fighting injustice. "Opposition unity will come about only when we have a broad consensus and a platform that elucidates broad issues of that consensus," he said.
Sibal said his message to Opposition parties would be that the bottom line is that great injustices – social, economic and political – are being perpetrated in this country by the diktats of this government. "In fact the entire Constitution is a narrative of how to achieve justice. So, the fight against injustice can be a common platform," he said.
On whether his newly-floated platform could provide what the Opposition needs, Sibal said "could be", but added that a lot of work needs to be done to bring all political parties on that platform.
Advertisement
Asked if it was practical that the Opposition parties of diverse backgrounds come together and cede parliamentary seats to each other to take on the BJP jointly in 2024, Sibal said parties have to be more generous, more circumspect in criticising each other's ideologies and have to realise that wherever they are weak, they should allow the dominant partner to have a say.
On the strengthened Opposition unity during the second half of the budget session especially after the disqualification of Rahul Gandhi from Lok Sabha, Sibal said as far as the joint protests in Parliament are concerned, that by itself is not a reflection of Opposition unity.
"As far as Opposition unity is concerned this is the first step. We need political parties to be more generous to each other and allow space for each other to have their own ideological moorings but at the same time get together to fight a government which is hell bent on silencing the people of India and converting this so-called democracy into an autocratic country," he said.
Sibal said having a common minimum programme for a united Opposition was a "tall order" and it would be decided only a few months before the general elections.
On whether the Adani issue and the caste census be the main planks for the Opposition going forward towards 2024, Sibal said he cannot suggest that as he is just an independent member of Parliament. "I think the caste census issue is a big issue. It is a big issue in many states, in particular northern India but whether that will be a unifying factor or whether that will be projected as a national issue, I cannot possibly say," he added.
Advertisement
On the Adani matter, Sibal said the issue is not about A, B or C, it is how the state and big conglomerates are collaborating with each other to control resources, media, centres of power and along with that the central agencies.
Most Read 1 Gadar 2 box office collection day 4: Sunny Deol film records biggest Monday collections of all time, nets a total of Rs 173 cr 2 Bigg Boss OTT 2 Finale Live Updates: Elvish Yadav wins Salman Khan's show, Abhishek Malhan shares message from hospital 3 Happy Independence Day 2023: Wishes Images, Whatsapp Messages, Status, Quotes, and Photos 4 OMG 2 box office collection day 4: Pankaj Tripathi-Akshay Kumar film delivers better Monday than opening Friday, earns Rs 55.1 cr 5 Jailer box office collection Day 5: Rajinikanth film set to cross Rs 350-crore mark worldwide on Independence Day
Rebutting Prime Minister Narendra Modi's charge that the Opposition is coming together as they are afraid of his government's anti-corruption crusade, he asked if the Centre was so concerned about graft why did it not appoint a Lokpal for five years after coming to power.
Advertisement
Why has the Lokpal been inactive and not investigated anybody in government, he asked. "Is it the premise of our dear prime minister that nobody in government in any BJP-ruled states and in the central government can ever be charged for corruption, and that each one of them is as white as snow," Sibal asked.
Also Read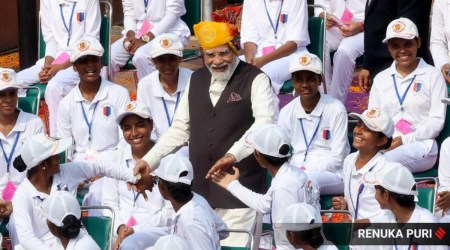 Narendra Modi Independence Day Speech Live Updates: India now identified ...
Govt SOP for Judges: Do not name officials for court panels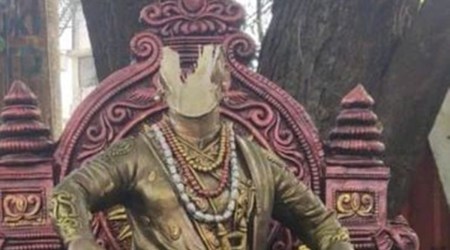 Shivaji statue vandalised in Goa, police initiate inquiry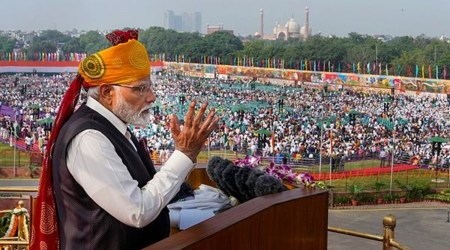 'Will return to Red Fort next year': In Independence Day speech, PM Modi ...
He also questioned the prime minister as to why ongoing investigations against those joining the BJP stopped. "Why is it that the map of India has been divided into two parts, wherever there are BJP-ruled states, the CBI has no access to, while in the Opposition-ruled states, they have complete access," Sibal said. This narrative of the prime minister is based on a weak premise, he asserted.