Project Cheetahoverestimated the carrying capacity of Kuno National Park and did not factor in the unique spatial requirement of the species before flying in 20 spotted cats from Africa, according to a group of Namibian researchers who have radio-collared and studied more than 150 African cheetahs.
In a letter published in the journal 'Conservation Science and Practice' on Thursday, they warned of the likely fallout: multiple cheetahs fanning out of the national park in search of territories in the larger Kuno landscape dotted by 169 villages.
From the archives | The cheetahs are here: Meet the 8 big cats in India
The possible solution, say experts in India, is to capture and pack away the 'straying' cheetahs to alternative sites or hold them in enclosures.
Either way, this will defeat the stated goal — "to establish a free-ranging population of cheetahs" — of the project.
"Of course, cheetahs need more space. All along, I have been advocating at least three sites for cheetah release, enhancement of the area of Kuno, and strengthening the prey base by translocating nilgai and blackbuck from sites where they are seriously damaging agriculture," said M K Ranjitsinh, head of a committee appointed by the Supreme Court to monitor the project.
Dr Y V Jhala, until recently the project's lead scientist, also rued the unavailability of additional sites for releasing cheetah and the lack of investment in the larger Kuno landscape. While acknowledging that "the predictions in this paper are quite realistic," he justified Kuno's carrying capacity estimates on prey availability.
However, the Namibian researchers have flagged this reliance on the prey base factor as misplaced.
Advertisement
India's Cheetah Action Plan 2021 claimed that the 748 sq km Kuno National Park could hold 21 cheetahs — a climbdown from up to 32 cheetahs envisaged in 350 sq km Kuno sanctuary in 2011.
African cheetahs in unfenced reserves, show records, usually occur at less than 1 animal per 100 sq km — a level, say sources, the field staff at Kuno is already finding realistic and the growing consensus at the field level is for moving the South African consignment of 12 cheetahs to an alternative site.
"From 7-8 per 100 sq km in 2010 to 3 per 100 sq km in 2021, and now apparently 1 per 100 sq km, the drop in anticipated cheetah density in the project plan implies a reduction of 72-88% in over a decade," Dr Arjun Gopalaswamy, chief scientist at Carnassials Global, who has studied cheetah and lion populations in the Maasai Mara in Kenya, said.
AdvertisementExpress Opinion | The missing data on cheetah extinction
According to Namibian researchers, the cheetah project overestimated Kuno's carrying capacity based on the assumption that augmenting the prey base by shifting and stocking herbivores will support more cheetahs but cheetah density does not depend on availability of food alone.
In the socio-spatial organisation of cheetahs, only some adult males hold individual territories. In the large undefended space between such scattered territories, float other cheetah males, along with females. Depending on multiple factors, the territories can be big or small, but two territory centres are always separated by 20-23 km.
This deeply rooted behaviour, according to Dr Bettina Wachter, one of the researchers with the Cheetah Research Project in Namibia, is likely to play out in Kuno as well.
Most Read 1 Gadar 2 box office collection day 4: Sunny Deol film records biggest Monday collections of all time, nets a total of Rs 173 cr 2 Bigg Boss OTT 2 Finale Live Updates: Elvish Yadav wins Salman Khan's show, Abhishek Malhan shares message from hospital 3 Happy Independence Day 2023: Wishes Images, Whatsapp Messages, Status, Quotes, and Photos 4 OMG 2 box office collection day 4: Pankaj Tripathi-Akshay Kumar film delivers better Monday than opening Friday, earns Rs 55.1 cr 5 Jailer box office collection Day 5: Rajinikanth film set to cross Rs 350-crore mark worldwide on Independence Day
"In Namibia, cheetah territories are larger and prey density lower, in East Africa territories are smaller and prey density higher—but the distance between territories is constant and no new territories are established in between. For the reintroduction plan in Kuno, these distances were ignored," Dr Wachter was quoted in a release by the Berlin-based Leibniz Institute for Zoo and Wildlife Research where she is a senior scientist.
Given that Kuno national park is an unfenced forest of approximately 17 by 44 km, the researchers estimated that the three males flown in from Namibia would occupy the entire area, forcing the South African male cats to venture out of the national park and invite conflict.
Also Read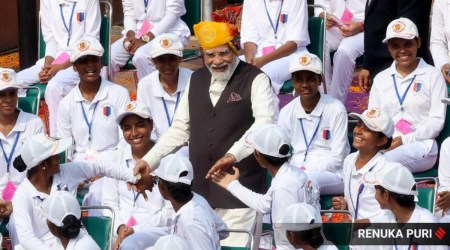 Narendra Modi Independence Day Speech Live Updates: India now identified ...
Govt SOP for Judges: Do not name officials for court panels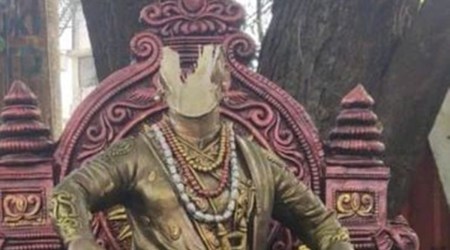 Shivaji statue vandalised in Goa, police initiate inquiry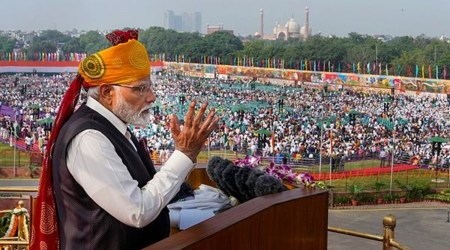 'Will return to Red Fort next year': In Independence Day speech, PM Modi ...Advertisement
Contacted by The Indian Express, Dr Sarah Durant, who heads Zoological Society of London's Serengeti Cheetah Project, the longest ongoing study of wild cheetahs, said: "This aspect of cheetah behaviour was first documented in the 1980s in the Serengeti and is well known. The predictions of the authors agree with what I would also expect from an introduction of cheetahs."
© The Indian Express (P) Ltd