India is committed to providing support to African partner-countries in all defence related matters—including capability enhancement of their Armed Forces—to ensure their economic growth and social development, defence minister Rajnath Singh said Tuesday, adding that the full potential of a nation's progress can be realised only when its security is ensured.
The defence minister was speaking at the first edition of India-Africa Army Chiefs' Conclave organised on the sidelines of the second Africa-India Joint Exercise 'AFINDEX' in Pune.
Hosted by Army Chief General Manoj Pande, the conclave was attended by Chiefs and representatives of 31 African nations, along with other civil and defence dignitaries and aimed at furthering India's military diplomacy with the countries amid China's growing influence in the continent.
Stating that India will continue to work with African nations to promote regional security, foster stability and enhance the defence capabilities together, Singh said the preservation of individual human rights is dependent on a strong and effective state apparatus which can ensure the Rule of Law as well as promote economic growth and social development.
"Development can only take place in a safe and secure environment. Though many of us have come a long way since our independence, there are many African countries where the capacity building of state systems is still a work in progress," he said.
He said India has been at the forefront of providing training to the Armed Forces of African nations and equipping them with necessary skills to face the security challenges of the 21st century.
He said the training programmes cover a wide range of areas, including counter-insurgency operations, peacekeeping, maritime security and specialised training in new domains such as cyber warfare and drone operations.
Advertisement
"It also encompasses training civilians in areas such as disaster management, humanitarian aid, and medical assistance," he said, adding many African Countries' Armed Forces personnel continue to visit India for training in different areas.
He added that joint exercises between India and African nations provide an excellent opportunity for the Armed Forces to learn from each other and promote interoperability.
Calling 'AFINDEX' a reflection of India's continued focus on African nations to develop capacities and enhance mutual capabilities, he said that as maritime neighbours linked by the Indian Ocean, cooperation in maritime security and hydrography, and countering terrorism and extremism will be essential for regional peace and prosperity.
Advertisement
The defence minister said that capacity building in terms of defence equipment and platforms is another critical aspect of India's military cooperation with its Africa partners and invited the African countries to explore Indian defence equipment and technologies to fulfil their security needs.
"The Indian defence industry can work with you to fulfil your defence requirements."
Stating that the aim is to empower the African partners to indigenously meet their defence requirements, he said India is also committed to sharing our expertise and knowledge in defence manufacturing, research, and development.
He added that India and Africa are united by the common goals of eradicating poverty, achieving sustainable development, promoting peace and harmony, and improving the quality of life of the people.
He also stressed that the exchange of ideas and practices will be two-way and India is keen to learn from the experiences of its African friends.
Advertisement
At the conclave, Army Chief General Manoj Pande said that terrorism and violent extremism are common threats for India and Africa affecting their development goals and the collective experience can help in better preparedness of both in tackling emerging security challenges.
"Strengthening our cooperation and mutual capabilities in combating terrorism and extremism was one of the 10 guiding principles of cooperation with Africa announced by the honourable PM in 2018," he said.
Advertisement
He added that many African armies have experience operating in difficult and challenging environments and can offer valuable insights into their tactics, techniques, and procedures.
He said Indian armed forces have been actively involved in several United Nations peacekeeping missions in Africa since 1965, adding that out of the six Indian Army battalions deployed on UN missions currently in Africa.
Most Read 1 Gadar 2 box office collection day 4: Sunny Deol film records biggest Monday collections of all time, nets a total of Rs 173 cr 2 Bigg Boss OTT 2 Finale Live Updates: Elvish Yadav wins Salman Khan's show, Abhishek Malhan shares message from hospital 3 Happy Independence Day 2023: Wishes Images, Whatsapp Messages, Status, Quotes, and Photos 4 OMG 2 box office collection day 4: Pankaj Tripathi-Akshay Kumar film delivers better Monday than opening Friday, earns Rs 55.1 cr 5 Jailer box office collection Day 5: Rajinikanth film set to cross Rs 350-crore mark worldwide on Independence Day Advertisement
Stating that the Indian diaspora spread across 46 countries in Africa and accounts for around 12.5 per cent of the total diaspora globally, he said the numbers are reflective of the vast potential for cooperation in various fields.
He said collaboration in defence manufacturing will mark a win-win situation for India-Africa cooperation.
Also Read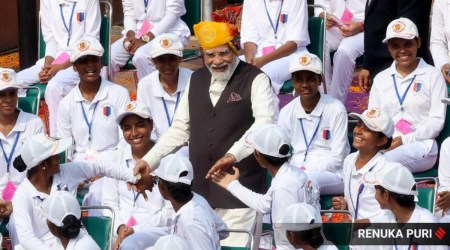 Narendra Modi Independence Day Speech Live Updates: India now identified ...
Govt SOP for Judges: Do not name officials for court panels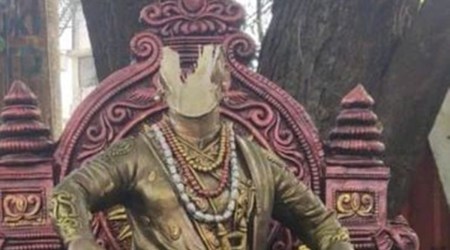 Shivaji statue vandalised in Goa, police initiate inquiry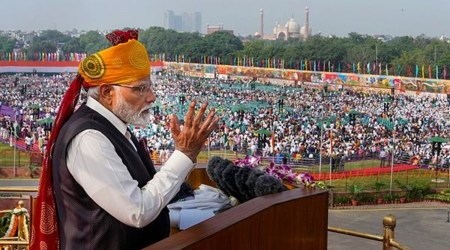 'Will return to Red Fort next year': In Independence Day speech, PM Modi ...
An exhibition of indigenous military equipment and platforms will be organised on Friday, showcasing India's manufacturing capabilities to the African delegates.
© The Indian Express (P) Ltd