The Supreme Court bench hearing petitions seeking legal recognition of same-sex marriagesTuesday said it will steer clear of the area of personal laws but will only examine if the right can be conferred under The Special Marriage Act (SMA), 1954. Crucially, in response to an argument that the "legislative intent" of marriage throughout has been a "relationship between a biological man and a biological female", the apex court underlined that "there is no absolute concept" of a man or woman.
A five-judge Constitution bench, presided by Chief Justice of India D Y Chandrachud, said it will restrict itself to the SMA and not broaden the canvas. The bench, also comprising Justices S K Kaul, Ravindra Bhat, Hima Kohli and P S Narasimha, said it is better to proceed incrementally than to try and deal with it all together.
Also Read | Supreme Court hearing on same-sex marriage: Top quotes
"Sometimes incremental changes in issues of societal ramifications are better. There is time for everything. Therefore, what was being suggested was, can we for the time being confine only to limited issue, and not step into personal law issues," said Justice Kaul.
Solicitor General Tushar Mehta, appearing for the Centre, urged the court to first consider the government's objections to the maintainability of the petitions. He said the subject involves the creation of a socio-legal relationship of marriage which is the domain of the competent legislature.
Mehta also said it was important that states be heard on the issue. He said that since the subject is on the concurrent list, one cannot rule out the possibility of a state agreeing to it and another being against it. He argued that the petitions would not be maintainable if states are not joined.
Don't Miss | Ahead of SC hearing of same-sex marriage pleas, Centre reiterates — it's legislature's domain
The CJI said that what the SG was trying to raise in the form of a preliminary objection is a response to the merits of the petition, but Mehta denied this.
Senior Advocate Mukul Rohatgi, appearing for some of the petitioners, said what the SG argued did not hinge on the maintainability of a writ petition by an individual who complains that his fundamental rights are being restricted. "I have a right to approach this court". He said homosexuals have the same rights under the Constitution as heterosexual groups of society.
AdvertisementAlso Read | SC hearing on same-sex marriage: Centre questions judiciary role in creating socio-legal rights
Rohatgi said that the only stumbling block to their equal rights was IPC Section 377 which was struck down. "Criminality is now gone. The unnatural part or order of nature is gone from our statute. So, therefore, our rights are equal", he argued, adding that "if our rights are identical…, then we want to enjoy the full extent of our rights under (articles) 14, 15, 19 and 21."
He contended that there is still stigma attached to homosexual relations which can be done away only with a declaration by the Supreme Court. "We want privacy in our homes and not face stigma in public places. So we desire the same institution between two people as is available to others – the concept of marriage and family. Because marriage and family are respected in our society," he said.
Vivek Katju writes | My journey has made me a better person, a better Hindu
Once the court declares that we can register our marriages under SMA, "society will accept us. The stigma will only go once the state recognises it. That will be full and final assimilation," he said.
Advertisement
The CJI said that "between (the SC's ruling in) Navtej Johar (wherein Section 377 was held unconstitutional) and today, our society has found much greater acceptance of same-sex couples. That's very positive because you find that there is a greater acceptance in our Universities". He added that "in this evolving consensus, the court is also playing a dialogical role to create that consensus and move towards an equal future".
Also Read | Issues in same-sex marriage plea, coming before Supreme Court today
Senior Advocate Menaka Guruswamy said marriage is not only a question of dignity but also carried with it a bouquet of rights that the LGBTQ community is denied post Navtej Johar, for eg, those pertaining to bank account, life insurance, medical insurance. "I cannot buy Supreme Court Bar Association (SCBA) medical insurance".
Guruswamy said that any relief short of full marriage would mean that the LGBTQ community will have to keep coming back to court to litigate individual issues of discrimination.
Justice Kaul, however, said that even in the Puttaswamy case wherein privacy was held as a fundamental right, "we found that there were nuances that come up later. It may require more visits to court. We can't say. But we cannot say that it will be possible to work out all possible nuances now".
Also Read | Supreme Court hearing on same-sex marriage: Top quotes
Mehta said acceptance of any relation in society is not dependent on either legislation or judgment. "It comes only from within." He added that "the legislative intent of the legislature throughout has been a relationship between a biological male and a biological female, including SMA."
Most Read 1 Bigg Boss OTT 2 Finale Live Updates: Elvish Yadav wins Salman Khan's show, Abhishek Malhan shares message from hospital 2 Happy Independence Day 2023: Wishes Images, Whatsapp Messages, Status, Quotes, and Photos 3 Happy Independence Day 2023: Wishes, images, quotes, status, messages, photos, and greetings cards 4 Bigg Boss OTT 2 finale: Alia Bhatt wanted to hide outside Bigg Boss sets to hug Pooja Bhatt after the show ended, says Mahesh Bhatt 5 Gadar 2 box office collection Day 3: Sunny Deol film collects a whopping Rs 135 cr in opening weekend, is second highest earner of 2023 Advertisement
Disagreeing, the CJI said "there is a very important value judgment that you are making – that the very notion of a biological man is absolute or that notion of a biological woman is also absolute which is incorrect. There is no absolute concept of a man or absolute concept of a woman at all. Biological man is not a definition of what your genitals are… It's far more complex… So even when the SMA says man and woman, the very notion of a man and notion of a woman is not an absolute based on what genitals you have."
Also Read | Same-sex marriage: The only natural and just way forward
The SG said that "for man, irrespective of other attributes than the genitals, there are age limits prescribed. The court will have to examine whether marriage is a fundamental right, right to marry de hors the law is a fundamental right."
Also Read
Narendra Modi Independence Day Speech Live Updates: India now identified ...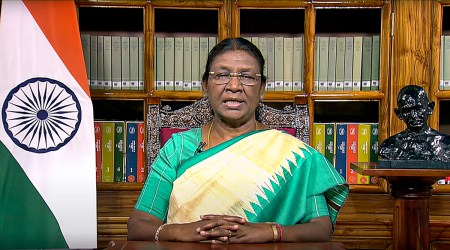 Full text | President Droupadi Murmu's speech on the eve of 77th Independ...
Govt SOP for Judges: Do not name officials for court panels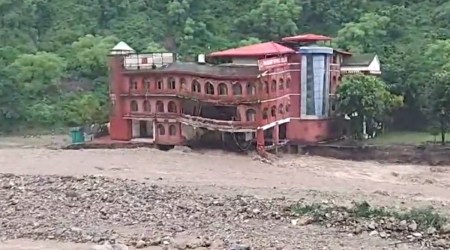 Watch | Defence College collapses amid heavy rainfall in Uttarakhand's De...Advertisement
He added that if the notion the CJI referred to is treated to be a guiding factor to decide whether one is a man or a woman, the court will unintentionally be making several acts unworkable. "I may have the genitals of a man, but is otherwise a female as is possibly being suggested, then how would I be treated under CrPC. As a woman can I be called, for giving a statement after a particular time… I may say this is only a notion (that I am a man). I may have the genitals of a man but now I am a woman. There are several issues which have to be gone into, better Parliament go into it."