Three men, three murders, three districtsand a common link — all three were functionaries of the Bharatiya Janata Party (BJP), killed allegedly by Maoists. The murders, committed over a span of just one week, sent shock waves through Chhattisgarh. The panic was followed by the usual mud-slinging between the ruling Congress and Opposition BJP.
While BJP state-in-charge and MP Arun Sao claimed the three killings were a "political conspiracy" by the Congress in an election year, the ruling party dismissed these allegations and said the BJP can hand over the probe to the National Investigation Agency (NIA) if it wished to.
Between February 5 and 11, the three BJP functionaries were murdered across three districts in Chhattisgarh's Bastar region. Visits by The Indian Express to Bijapur, Narayanpur and Dantewada revealed that Neelkanth Kakem(48), Sagar Sahu(52) and Ramdhar Alami (43) had been on the radar of Maoists for a while, owing to their support of local issues and their popularity in their village.
In Political Pulse | After Maoists strike twice, wary parties cut back on political activities in Chhattisgarh
Local villagers, family members and the police said that two of the victims had allegedly been warned by Maoists against supporting government projects and one over his links to Salwa Judum, a controversial force comprising former Maoists. These, they felt, were the real reasons why the trio were killed, rather than their affiliation to the BJP.
Neelkanth Kakem (48), Bijapur
Killed on February 5
Neelkanth was the BJP's divisional head for Bijapur district's Awapalli, where he lived with his family. He was starting his bike on February 5, after a visit to his ancestral village Penkram, 7 km away, when an action team of three Maoists allegedly attacked him multiple times with sharp weapons. As his wife looked on in horror, he died on the spot. A first information report (FIR) was registered in connection with his murder.
Before they fled, the Maoists allegedly left a note on Neelkanth's body. The note contained several allegations against him, including that he "fled to Bijapur from Penkram in 2005 and joined the Salwa Judum", "helped police commit violence on villagers" and, as a member of the BJP, "worked against krantikari janta and (Maoist) party". The letter also issued death threats to all those who supported the BJP and the Congress.
Sources said a month before he was murdered, the police in Awapalli had, citing local intelligence that warned of a threat to Neelkanth's life, warned him against venturing deep inside the forests.
AdvertisementAlso Read | Murder of BJP leader a sign of weakening Maoist movement in Chhattisgarh: CM Baghel
BJP sources said while Neelkanth's Salwa Judum connection had put a target on his back, he probably angered Maoists by not "falling in line". Sources said there were just three BJP leaders in Bijapur, who also happened to be the most popular. Of these three BJP leaders, two allegedly kept in touch with Maoists — a factor that may have led to Maoists sparing their lives — but Neelkanth did not.
A BJP source close to the victim said, "In 2007-2008, Maoists had summoned Neelkanth but he did not go. Now he is no more. Neelkanth has three daughters and a one-year-old son. His family was given Rs 2 lakh as compensation by the BJP, which we deposited as fixed deposit in the bank. But we want the BJP or the government to give one of his children a government job."
Speaking at her Awapalli home, Neelkanth's wife said she had no idea why her husband was targeted. His relatives claimed that the allegations the Naxals had made in the letter were false and that Neelkanth was murdered for being a BJP leader.
Advertisement
Alleging threats from Naxals, Neelkanth's nephew, Rammurthy Kakem (42), also a BJP worker, fled to Bijapur city, around 33 km from Awapalli, following his uncle's murder.
A BA graduate and contractor by profession, Rammurthy said, "I do not know why he was targeted and why I am being targeted. We left Penkram in 2005 fearing Maoists and started staying in Awapalli. I was given security when I was a Zilla Parishad member, but it has been withdrawn now. I have been with the BJP since 1998."
Sagar Sahu, 52, Narayanpur
Killed on February 10
Late on February 10, the police said, an action team of two Maoists knocked on Sagar's door. As soon as he opened it, they allegedly shot him in the head and neck, and fled. Days later, pamphlets started appearing in the village.
Claiming responsibility for Sagar's murder and linking it to a mine at Amdai Ghati, a Maoist-affected zone that is a few kilometres away from his Chhotedongar village, alleged Maoists identified Sagar as a BJP leader and an "agent" of the mine.
Sagar, one of the four deputy chiefs of the BJP in Chhotedongar, was among those who were initially opposed to a mine but like many others in the village had made a U-turn. Around 5,000 people, mostly tribals, live in Chhotedongar Village. Nine villages near the Chhotedongar tehsil are yet to be surveyed by the Revenue Department. Sagar's home is located at the end of the village, on a road leading to the mine that was allotted to Jayaswal Neco Industries Limited (JNIL) in 2005-2006.
AdvertisementMust Read | 'Fight against Maoist insurgency in final phase, full credit to CRPF': Amit Shah in Chhattisgarh's Bastar
For over a decade before the mine began operations in October 2021, the villagers, allegedly backed by Maoists, led a series of protests. However, most villagers came around to the idea of the mine by 2022. This turnaround happened gradually, after JNIL undertook a series of social activities since 2007 — from setting up free medical and eye check-up camps to distributing spectacles, solar lights and school bags — to win them over. JNIL also employed over 425 locals at the mine.
A senior JNIL employee said on the condition of anonymity, "We will keep doing social activities as part of our corporate social responsibility, district mining fund and royalty to win the trust of the villagers."
Advertisement
The police said this angered Maoists, who have allegedly been threatening known faces in the village for changing their initial position on the mine. Sagar, who was with the BJP for 25 years, was among the prominent people of the village and an obvious target, they said. Even after his death, Maoists are till date throwing pamphlets in the village saying they do not want roads, police camps or mining activities there.
With the help of security forces, the government and JNIL had managed to start the mine in October 2021. While trucks that carried iron ore from the mine were nearly negligible in the beginning, their numbers have picked up since the 2022 monsoons.
Advertisement
Maoists stepped up their attacks in 2021. Pradip Sheel, a supervisor, was beaten to death on July 3, 2021, and six machines were burnt. Late on February 20, a truck from the mine that had broken down near the village was found partially burnt by "unknown" persons.
Village sarpanch Hari Manjhi is among those who received threat letters and pamphlets from Maoists. The 48-year-old, who became sarpanch in 2020, was offered police security but turned it down.
Hari said, "I have no idea why I am being linked to the mine. I will make my stand clear to them (Maoists), that I have nothing to do with the mine. If the government wants to start it, they will start it. Do you think they (the government) will listen to me?"
Talking about initial protests against the mine, Hari added, "The protests were on a small scale in 2005. They increased in 2017. One last major protest took place 2-3 three years ago…I cannot recollect…but thousands of villagers blocked the road for several days."
A villager who took part in the protest said, "Now nobody protests. It's just the andarwale (a term they use for Maoists) who are angry. "
Since the mine started operations, the villagers realised that outsiders were making money by running trucks.
"We thought, the mine has started anyway and others are making money from it, so why should we suffer?" said a villager, adding that nearly 50 locals bought trucks from Narayanpur on equated monthly instalments (EMIs).
Since local trucks are exempted from waiting in queue, the villagers claimed that business has flourished. While there are no signs of this new-found prosperity in the village, the residents claim that things are changing slowly.
Sagar owned one of these trucks and was a local leader who had made a name for himself in these parts, a fact that made him a prime target, said the police.
"The others who are being threatened are also well-known people in the village. By targeting them, Maoists want to silence the others. We do not see it as a BJP or Congress issue. It is a Maoist issue," said a police source.
Sagar's single-storey house stands amid a cloud of dust generated by the trucks that go back and forth from the mine. The stretch from his house to the mine, a few km long, is heavily guarded by security forces.
His wife Sarita, 42, said, "I am left with my three children now. My husband was an honest man. He took contracts for making houses and was the sole breadwinner. We have debts too. We are now facing trouble for everything. Now I feel scared to even stay here. If we made a lot of money, would we stay in this place? And they call him a dalal (middleman)!"
Their daughter Damini, 22, is a BSc graduate who took tuitions and made cakes to supplement the family income. Their 19-year-old son Dushyant completed a course at an Industrial Training Institute (ITI) and plans to get a job so that the youngest sibling can continue to go to school.
Ramdhar Alami, 43, Dantewada
Killed on February 11
On February 11, Hitameta village resident Ramdhar was returning from Thulthuli, a village deep inside Abujhmad, where he had gone to conduct some religious rituals, when he was waylaid by a group of alleged Naxals.
A BJP functionary for nearly 15 years, Ramdhar, a former sarpanch of his village, was a sirha or a person who conducts tribal rituals.
Ramdhar was part of a group of around 25 people, including his relatives, who were headed towards Hitameta village, 50 km from Thulthuli, when the alleged Naxals, including women dressed in the green uniform worn by the People's Liberation Guerrilla Army (PLGA), stopped him. They took him inside the jungle and allegedly murdered him. Ramdhar is survived by his wife, four sons and five daughters.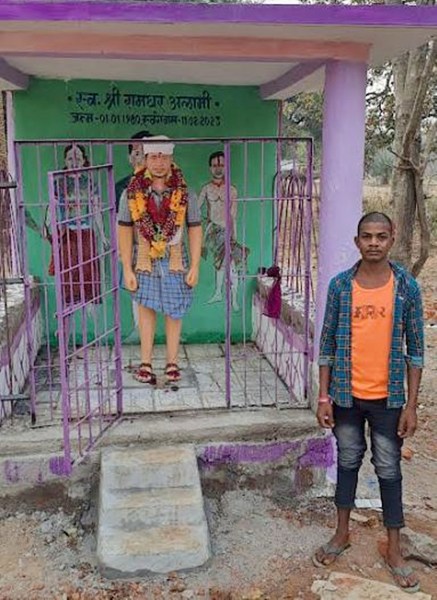 Ramdhar Alami's statue made in his memory outside his home with his son standing near it. (Special Arrangement)
A relative said, "The Maoists accused him of taking a commission of Rs 20 lakh for the Bodhghat dam project, which was opposed by the villagers. They said he got Maoists to surrender and that he was given prior warnings."
The Bodhghat dam project is a multipurpose hydro project proposed to be built on Indravati river. The proposal is pending for decades, predating even the formation of the state, which was formed in 2000. The current government is now in the process of reviving the Bodhghat project as an irrigation project. The villagers had last year protested against it, fearing that they would be displaced.
Reacting to their protests, Chief Minister Bhupesh Baghel had said, "Is it possible to do farming without irrigation? The irrigation in 44 per cent forest area is between 0 per cent to 7 per cent. They have land but they face drought. This will be the first project where water from the dam will go directly into the fields of Adivasis. The project will help irrigate the entire Bastar. Telangana made a dam and 2 lakh people were displaced but no one objected. We will take the view of the villagers who will be displaced and give them the best resettlement policy."
A local BJP source said Ramdhar was warned by Maoists not to step inside "their territory" Abujhmad, but he had gone there for religious rituals. Last year, the source said, Maoists had summoned Ramdhar for a meeting but he had not turned up.
Local police sources said, "Maoists take strong objection to any stranger coming to Abujhmad but it is not clear to us why he was targeted."
However, Ramdhar's family members claim they have no idea why he was targeted.
Most Read 1 Gadar 2 box office collection day 4: Sunny Deol film records biggest Monday collections of all time, nets a total of Rs 173 cr 2 Bigg Boss OTT 2 Finale Live Updates: Elvish Yadav wins Salman Khan's show, Abhishek Malhan shares message from hospital 3 Happy Independence Day 2023: Wishes Images, Whatsapp Messages, Status, Quotes, and Photos 4 OMG 2 box office collection day 4: Pankaj Tripathi-Akshay Kumar film delivers better Monday than opening Friday, earns Rs 55.1 cr 5 Jailer box office collection Day 5: Rajinikanth film set to cross Rs 350-crore mark worldwide on Independence Day
Stating that perhaps Maoists suspect that Ramdhar went to Raipur with other leaders to discuss the dam project, his son said, "They (Maoists) allege he took money for Bodhghat, but several villagers went with him, including a Minister, to Raipur. How do I believe this allegation? Is anyone saying that my father took Rs 20 lakh? He had gone for a ritual and used to go there (Abujhmad) a few times a year. As far as I know, he was never told not to come to Abujhmad."
Ramdhar's younger son claimed he had heard that his father had not turned up for a meeting despite being summoned by Maoists. The 19-year-old alleged that someone had complained to Maoists against his father.
Also Read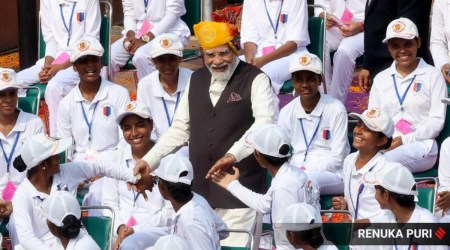 Narendra Modi Independence Day Speech Live Updates: India now identified ...
Govt SOP for Judges: Do not name officials for court panels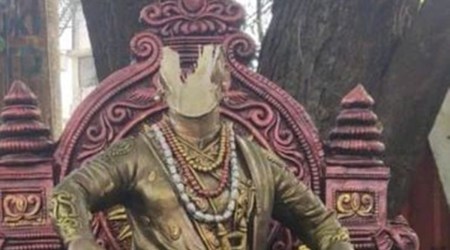 Shivaji statue vandalised in Goa, police initiate inquiry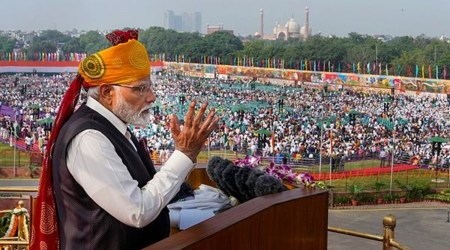 'Will return to Red Fort next year': In Independence Day speech, PM Modi ...
Talking about the murder, Chaitram Atami (45), BJP's Dantewada chief who has been provided security as he is being targeted by Maoists, said, "Ramdhar had received oral threats from Maoists. We are demanding protection for four others who have received threats like Ramdhar did but it has not been given so far. Ramdhar was with the BJP for over 15 years. I have been provided security since 2005 after the Salwa Judum movement."