Eloor smells like it is dying. Once it was an island of rich farmland on the Periyar River, 17 km from the Arabian sea, teeming with fish. Now, a stench of putrid flesh permeates the air. Most of the fish are gone. Locals say people living near the river are hardly even having children anymore.
Yet here is Shaji, alone in his small fiber boat, fishing with his handmade rod, Kochi's massive industrial smokestacks behind him.
Some 300 chemical companies belch out poisonous fumes, almost warning people to stay away. The waters have taken on dark hues. Shaji, a fisherman in his late 40s who only uses one name, is among the few who remain.
"Most of the people here are trying to migrate from this place. If we look at the streets, it's almost empty. There are no jobs and now we cannot even find work on the river," said Shaji, displaying the few pearl spot fish he managed to catch during an entire day in March.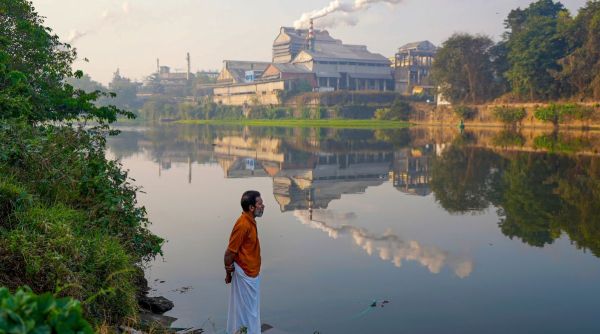 Adam Kutty stands on the bank of the Periyar River with smokestacks near him in Eloor, Kerala. (AP)
Many of the petrochemical plants here are more than five decades old. They produce pesticides, rare earth elements, rubber processing chemicals, fertilizers, zinc-chrome products and leather treatments. Some are government owned, including Fertilisers and Chemicals Travancore, established in 1943, Indian Rare Earths Limited, and Hindustan Insecticides Limited.
Residents say the industries take in large amounts of freshwater from the Periyar and discharge concentrated wastewater with almost no treatment.
Anwar C. I, is a member of a Periyar anti-pollution committee and a private contractor who lives in the area. He said residents have grown accustomed to the reek that seems to hang over the area like a heavy curtain, enveloping everything and everyone.
The groundwater is now fully contaminated and the government's contention that the businesses benefit people is wrong, he said. "When they claim to provide employment to many people through industrialisation, the net impact is that the livelihood of thousands is lost," Anwar said. People cannot make a living from ruined land and water.
Advertisement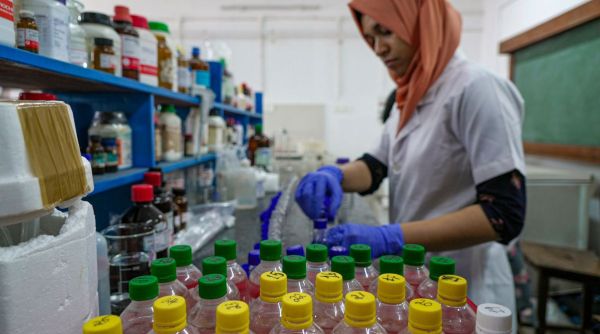 Lab workers conduct tests at the Chemical Oceanography lab at Cochin University of Science and Technology in Eloor, Kerala. (AP)
Residents have periodically risen up against the factories in the form of protests. Demonstrations began in 1970, when the village first witnessed thousands of fish dying. Both die-offs and protests happened again many times after that, said Shabeer Mooppan, a long-time resident who has often demonstrated.
"Some of the early protest leaders are now bedridden" in advanced age, Mooppan said, emphasising just how long people in the community have been trying to get the river cleaned up.
Now Shabeer is trying to improve surveillance, to catch those responsible for fouling the river. It's a method used by riverkeepers and baykeepers in some other cities around the world. He is also pursuing legal cases against polluting industries.
Advertisement
The state Pollution Control Board downplayed the industrial pollution in the Periyar River, blaming it on sewage from homes, commercial institutions and markets upstream. "We have not found any alarming rate of metals in the river water. All the levels are within the limits," said Baburajan P K, chief environmental engineer of the board.
Baburajan said only five major companies of the over 300 industrial plants in the region are allowed to discharge wastewater into the river, and it must be treated. The rest must treat their wastewater, reusing or disposing it on their own land. He said hefty environmental levies have been imposed on violators.
Research also tells a story of a river in distress.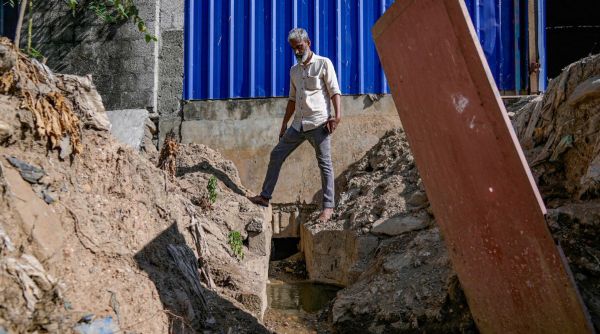 Activist Shabeer Mooppan stands next to a pipe discharging liquid directly into the Periyar River coming from the rear of a small manufacturer on the riverbanks in Eloor, Kerala. (AP)
As far back as 1998, scientists at the Kerala University of Fisheries and Ocean Studies found some 25 species of fish had disappeared from the region. Experts have found contamination in vegetables, chicken, eggs, fruits and tuber crops from the region.
Chandramohan Kumar, a professor in Chemical Oceanography at Cochin University of Science and Technology, has researched Periyar River pollution in several studies. "We have observed pollution from various organic fertilizers, metallic components. Toxic metals like cadmium, copper, zinc and all the heavy metals can be detected there," Kumar said.
Advertisement
A decade ago, the National Green Tribunal, ordered the government to create an action plan to restore water quality in the river to protect the environment and public health. It also ordered the formation of a monitoring committee.
More recently, the Tribunal was worried enough to initiate its own proceeding on the pollution. It cited studies going back to 2005, carried out by the environmental non-profit group Thanal, that showed "hundreds of people living near Kuzhikandam Creek at Eloor were afflicted with various diseases such as cancer, congenital birth defects, bronchitis, asthma, allergic dermatitis, nervous disorders and behavior changes." The court cited another survey of 327 families in the region that showed hazardous chemicals, including DDT, hexachlorochyclohexane, cadmium, copper, mercury, lead, toluene, manganese and nickel had been discharged into into Kuzhikandam Creek "and adversely affected the health condition of people in Eloor." Kumar said the remedy for this pollution is onsite treatment at each facility, and it comes down to money. "If they are ready to invest, the effluent discharge can be resolved," he said.
Advertisement
The Pollution Control Board responded that it recently began a study that could lead to curbing air pollution and reducing the intolerable stench in the area largely caused, it said, by bone meal fertilizer factories and meat rendering plants. It is expected to be finalised in May.
Most Read 1 Gadar 2 box office collection day 4: Sunny Deol film records biggest Monday collections of all time, nets a total of Rs 173 cr 2 Bigg Boss OTT 2 Finale Live Updates: Elvish Yadav wins Salman Khan's show, Abhishek Malhan shares message from hospital 3 Happy Independence Day 2023: Wishes Images, Whatsapp Messages, Status, Quotes, and Photos 4 OMG 2 box office collection day 4: Pankaj Tripathi-Akshay Kumar film delivers better Monday than opening Friday, earns Rs 55.1 cr 5 Jailer box office collection Day 5: Rajinikanth film set to cross Rs 350-crore mark worldwide on Independence Day
The board dismissed allegations that it does not actively pursue polluters and said it ensures no untreated waste liquids are discharged into the river.
Advertisement
Trainees with the Pollution Control Board do daily trips to collect samples from six different points along the river. "But we don't know what happens to those samples," said resident Adam Kutty. "What's the point of having all the money in the world and no water to drink?" For years now, many residents of Eloor say they no longer consume fish from the river, which they say give them serious diarrhea and taste like pesticides, even after cooking.
Also Read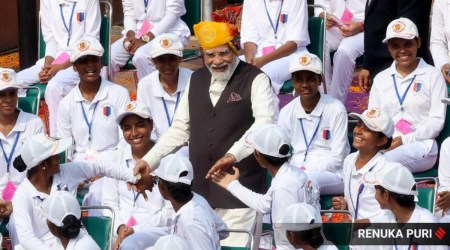 Narendra Modi Independence Day Speech Live Updates: India now identified ...
Govt SOP for Judges: Do not name officials for court panels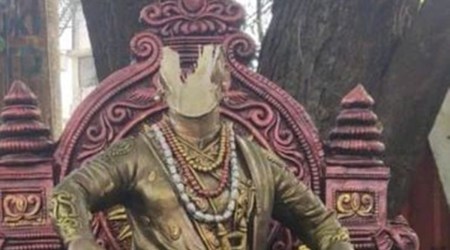 Shivaji statue vandalised in Goa, police initiate inquiry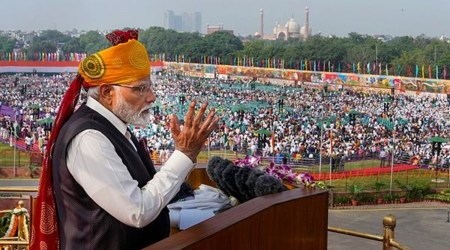 'Will return to Red Fort next year': In Independence Day speech, PM Modi ...
As the blame game continues, the grass and trees in the area appear wilted as if scorched by the noxious fumes. The birds seem to have been driven away by the air. Without official action, the pall over the region and its residents is unlikely to lift soon.