Marking 50 years of Project Tiger, Prime Minister Narendra Modi on Sunday announcedyet another quadrennial jump in the country's tiger number with an estimated population of at least 3,167.
Officials in the Environment Ministry said this is an interim figure and the "spatial estimation process is still underway" at the Wildlife Institute of India (WII). Once the final estimates are available, the gain in tiger numbers is likely to be significantly higher than the margin of 200 which the interim figure of 3,167 has compared with 2,967 reported in 2018.
This is why.
After identifying individual tigers from camera-trapped photos, researchers at the WII use the Spatially Explicit Capture-Recapture (SECR) method to estimate the range of tiger abundance. In 2018, for example, a tiger population of 2,967 was estimated within the range of 2,603-3,346 based on 2,461 unique photos.
Also Read | Fifty years of 'Project Tiger': How the programme saved Indian tigers
In the present cycle, 3,080 unique tigers have been identified from the camera-trapped photos but the SECR analyses are still underway. In the interim, the minimum estimated figure of 3,167 tigers is comparable with the lower limit of the range – 2,603-3,346 – estimated in 2018, implying a gain of over 500 tigers.
"The number 3,167 is an estimation of tigers in areas where 3,080 individual tigers were photographed. The numbers of tigers in areas where tigers are present but not camera-trapped are yet to be extrapolated," said Qamar Qureshi, WII scientist and lead author of the tiger report.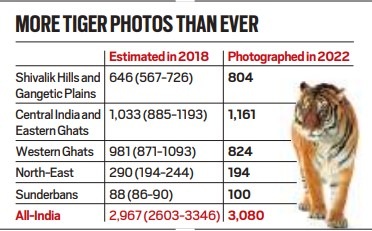 In three of the country's five tiger landscapes, the latest camera-trapping exercise photographed more individual tigers than were estimated in 2018 (see chart), implying significant gains. This was also achieved in parts by deploying a significantly larger consignment of cameras — 32,588 compared to 26,838 used in 2018. The ongoing national census is the fifth such exercise since 2006.
Underlining that the second phase of tiger conservation in India began after "the shocking revelation of local extinction of tigers in the Sariska Tiger Reserve in 2005" when the government started innovating and implementing new ideas, the interim report underlined the gains realised through "a landscape-level approach" and strict monitoring.
Advertisement
Emphasising that "wildlife conservation is not a concern of one nation alone", the Prime Minister also launched the International Big Cat Alliance, the first of its kind, to mark 50 years of Project Tiger. The three-day conference will focus on protection and conservation of seven major big cats of the world — tigers, lions, leopards, snow leopards, pumas, jaguars and cheetahs.
Opinion | How India became a leader in tiger conservation
Addressing the event, the Prime Minister noted that 75 per cent of the world's tiger population was in India and that the country had seen a 75 per cent growth in the population of big cats over the last 10-12 years. "It is a matter of great happiness for us that at a time when we have completed 75 years of Independence, that nearly 75 per cent of the world's tiger population can now be found in India and tiger reserves in the country span 75,000 square kilometres. With only 2.4 per cent of global land area, India contributes to eight per cent of wildlife diversity. India is the largest tiger range country in the world. With nearly 30,000 elephants, we are the largest Asiatic elephant range in the world," he said.
The report released Sunday outlined the persisting threats facing the tiger across its habitats:
Advertisement
Shivalik Hills and Gangetic Plains:Expansion of road infrastructure between the western and eastern part of Rajaji tiger reserve leaves this already congested corridor functionally extinct for tiger and elephant movement. Implementing green infrastructure will be key to the recovery of tigers in this fragmented landscape.
Most Read 1 Gadar 2 box office collection day 4: Sunny Deol film records biggest Monday collections of all time, nets a total of Rs 173 cr 2 Bigg Boss OTT 2 Finale Live Updates: Elvish Yadav wins Salman Khan's show, Abhishek Malhan shares message from hospital 3 Happy Independence Day 2023: Wishes Images, Whatsapp Messages, Status, Quotes, and Photos 4 OMG 2 box office collection day 4: Pankaj Tripathi-Akshay Kumar film delivers better Monday than opening Friday, earns Rs 55.1 cr 5 Jailer box office collection Day 5: Rajinikanth film set to cross Rs 350-crore mark worldwide on Independence Day
Central Indian Highlands and Eastern Ghats:Tiger occupancy declined in Jharkhand, Odisha, Chhattisgarh, and Telangana. The big cat went extinct locally in Kawal tiger reserve, Chennur of Telangana, Sri Venkateswara national park in Andhra Pradesh, Satkosia tiger reserve in Odisha, Sahyadri tiger reserve (Maharashtra). Mitigation measures like lower-impact mining techniques, rehabilitation of mining sites and eco-friendly structures to lessen the impact of linear infrastructure should be the priority.
Prime Minister @narendramodi launches the International Big Cats Alliance (IBCA) at Karnataka pic.twitter.com/txnSsfiO7w

— DD News (@DDNewslive) April 9, 2023
Western Ghats:Data shows a declining trend in tiger occupancy in the entire landscape barring a few areas such as Anshi Dandeli. While the tiger populations inside the reserves remain stable (Mudumalai, Periyar) or have increased (Bandipur, Nagarahole), the tiger occupancy outside has declined in stretches such as the Wayanad landscape and in BRT Hills.
North Eastern Hills & Brahmaputra Plains Landscape:Despite having habitat connectivity, many of the protected and forested areas are devoid of tigers. Ecological monitoring outside protected areas is necessary. The rapid development of linear infrastructures and several hydroelectric projects could potentially disturb the existing corridors and natural habitats and further alter the gene pool.
Also Read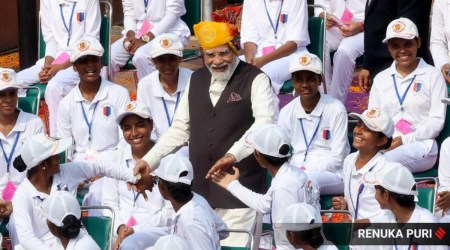 Narendra Modi Independence Day Speech Live Updates: India now identified ...
Govt SOP for Judges: Do not name officials for court panels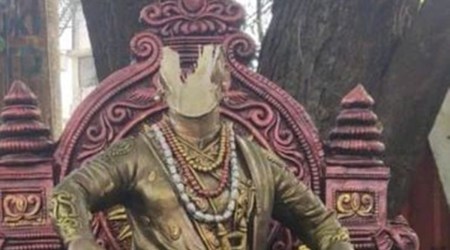 Shivaji statue vandalised in Goa, police initiate inquiry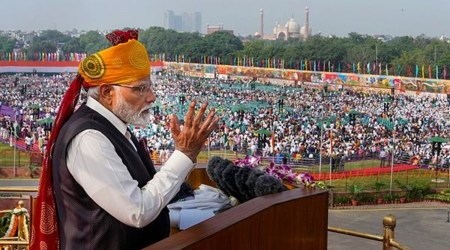 'Will return to Red Fort next year': In Independence Day speech, PM Modi ...
Sunderbans:Vulnerable to climate change and submergence from sea level rise, the deltaic region faces a substantial amount of accretion and erosion every year. The ever-increasing biotic interference in the form of livelihood forest explorations, fishing, palm and timber extractions, and growing national and international waterways make this landscape and the tiger population vulnerable.
With inputs from Akram M in Bengaluru
© The Indian Express (P) Ltd