Calling India "the next growth centre" with potential to trigger growth in all of South Asia, Sri Lankan President Ranil Wickremesinghe has said he wants to upgrade the existing free-trade agreement between the two countries into a more wide-ranging economic and technology cooperation pact, and to harness the "synergies" of Sri Lanka and Tamil Nadu.
At an interaction with scholars at Harvard University's Centre for International Development on March 24, Wickremesinghe laid out an economic recovery plan for Sri Lanka that includes increasing the country's international trade by more than 100 per cent of its GDP, developing Sri Lanka as a regional logistics hub and setting up the "first climate change university" for the Indian Ocean region.
Wickremesinghe said over the next 10 years, he envisaged an annual growth in trade of $3 billion from new exports, plus new annual investments to the tune of another $3 billion. He said the $3 billion IMF programme was more than just the money, as it would unlock credit from other sources, including bilateral and private lenders to help stabilise the country over the next two years.
As he has done on other occasions, Wickremesinghe also flagged big power rivalry in the region as a potential spoiler for Sri Lanka, but this time picking out AUKUS and the presence of the UK in this region "where it should not be" as an aggravator, and warning that the "issues of the "Asia Pacific", especially that of Taiwan", must not be allowed to disrupt Colombo's access to markets in India and Africa.
Wickremesinghe said he plans to leverage Sri Lanka's "strategic location" as he implements economic reforms.
"To move forward then," the Sri Lanka President said, "Sri Lanka needs trade integration with many of its neighbouring countries. Firstly, we will upgrade the free trade agreement with India to an economic cooperation and technical agreement. This is essential. India is going to be the next growth centre and it will trigger off growth in South Asia. We are just 22 miles away and we have to work especially to ensure that the synergies of Sri Lanka and Tamil Nadu are brought together."
India was pushing for an Economic and Technology Co-operation Agreement with Sri Lankan since 2015. The pact was seriously negotiated for over two years as a replacement to the Comprehensive Economic Partnership Agreement which had to be shelved a couple of years earlier due to opposition from Sri Lankan trade lobbies and political leaders.
Advertisement
ECTA too was shelved due to Sri Lankan concerns that Indian IT professionals would "take over" the country. At a time when the government of President Maithripala Sirisena and Prime Minister Ranil Wickremesinghe had lost public support, and a return of the Rajapaksas was on the cards, there was no way that the two countries could have concluded an agreement over it.
In the new economic context that Sri Lanka finds itself, in which India was the only country to deliver an emergency package of $ 4 billion over three months in 2022 and other support, Wickremesinghe's renewed talk about ECTA signals that the two countries may already be in discussions on taking up ECTA again.
His remark about the "synergies" of Tamil Nadu and Sri Lanka is also significant. The Indian state has always loomed large in the country's ethnic divide, and has been seen by the Sinhala-Buddhist majority more as a disruptor of the good ties between Colombo and Delhi.
Advertisement
During a visit to Delhi in 2017, he had said ECTA offered a strategic economic advantage to Sri Lanka and the fast-growing southern Indian states. "These five southern states have a population of 250 million and a combined GDP of $450 billion. With an addition of Sri Lanka $80 billion, the GDP in this sub regional economy will cross $500 billion," he told the India Economic Summit, organised by the World Economic Forum.\
At the Harvard interaction, Wickremesinghe rued the absence of economic integration in South Asia due to the tensions between the region's two biggest countries.
"Apart from a few lukewarm efforts, there has been no sincere political will to amalgamate the region's economies into a powerful trading bloc. And it is further complicated by the flagging India-Pakistan relations," he said.
He said along with ECTA, Sri Lanka also hoped to join the Regional Comprehensive Economic Partnership and the Comprehensive and Progressive Agreement for Trans-Pacific Partnership (CPTPP). All this would determine the level of Sri Lanka's competitiveness and act as a push for growth.
The other "sticky issue" he spoke about was Sri Lanka's "need to take into account the smouldering big power rivalry in the Indian Ocean. While our island has always maintained its political independence, India is regarded as the net security provider in the region and is Sri Lanka's closest neighbour and the country which we have the longest ties with."
Advertisement
Pointing out that Sri Lanka was a member of the Belt and Road Initiative too, Wickremesinghe said "the presence of the Chinese [naval] ships and the formation of the Quad, the security dialog between Australia, India, Japan and US have complicated peace and security in the Indian Ocean". He underlined Sri Lanka's good relations with all four members of the Quad as well as China.
Most Read 1 Gadar 2 box office collection day 4: Sunny Deol film records biggest Monday collections of all time, nets a total of Rs 173 cr 2 Bigg Boss OTT 2 Finale Live Updates: Elvish Yadav wins Salman Khan's show, Abhishek Malhan shares message from hospital 3 Happy Independence Day 2023: Wishes Images, Whatsapp Messages, Status, Quotes, and Photos 4 OMG 2 box office collection day 4: Pankaj Tripathi-Akshay Kumar film delivers better Monday than opening Friday, earns Rs 55.1 cr 5 Jailer box office collection Day 5: Rajinikanth film set to cross Rs 350-crore mark worldwide on Independence Day
Asked by a member of the audience who Sri Lanka would side with if it had to choose between India and China, Wickremesinghe said: "We would like to see that no confrontation breaks out between India and China, India and Pakistan. So far, the situation has held. Though it's the tensest place in the world with three nuclear powers. None of us want to come to a situation that we have to choose between India and China if there's a confrontation."
Advertisement
He said the easing of tensions "is going to be a difficult task at the moment when the Quad is operating on one side and China on the other hand, and Ukraine has really raised the level of confrontation between the West, Russia and China though in our part of the world we are not involved in the Ukraine issue and kept away from taking sides".
Also Read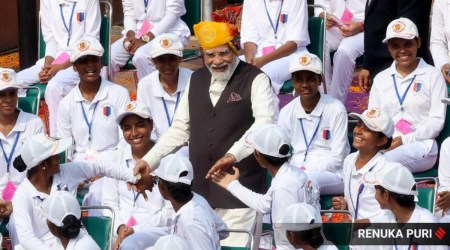 Narendra Modi Independence Day Speech Live Updates: India now identified ...
Govt SOP for Judges: Do not name officials for court panels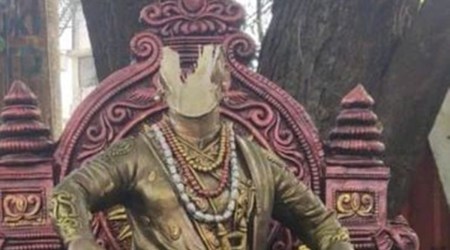 Shivaji statue vandalised in Goa, police initiate inquiry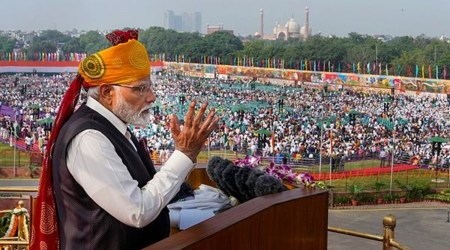 'Will return to Red Fort next year': In Independence Day speech, PM Modi ...
But, said Wickremsinghe, "this is why I was worried that the presence of the UK in the Indian Ocean and Pacific where they shouldn't be and there is military power, can make things worse. I think between us in the region, we will somehow manage it. So we don't want things to become worse and we all like to ensure that we all work with India, China, US, Japan and everyone else. That's our aim, not to have a big power rivalry in the area".
© The Indian Express (P) Ltd