Congress leader Priyanka Gandhi Vadra today launched a scathing attack at the ruling dispensation as she joined Congress party's 'Sankalp Satyagraha'to protest against the move to disqualify her brother and Congress leader Rahul Gandhifrom the Lok Sabha.
Addressing a gathering at Rajghat, she said that "a martyred prime minister's son, who walked thousands of kilometres for national unity, can never insult the country." "It was my family who nurtured the democracy of this country with their blood," she said.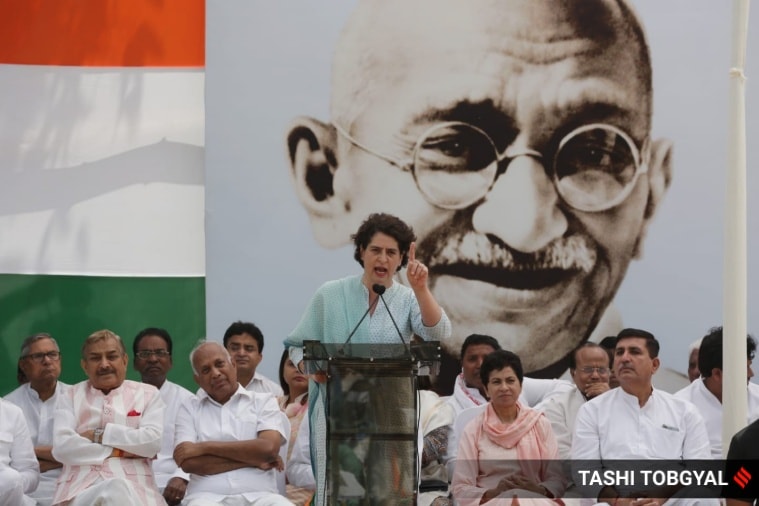 Priyanka Gandhi speaks during the Congress party's Sankalp Satyagraha at the Rajghat in New Delhi on Sunday. (Express Photo by Tashi Tobgyal)Also Read | Priyanka Gandhi takes aim at Narendra Modi: 'PM hiding behind his power… people will respond to the arrogant ruler'
Priyanka was joined by the top brass of the party including party chief Mallikarjun Kharge, Rajasthan CM Ashok Gehlot and senior leaders KC Venugopal, P Chidambaram and Salman Khurshid.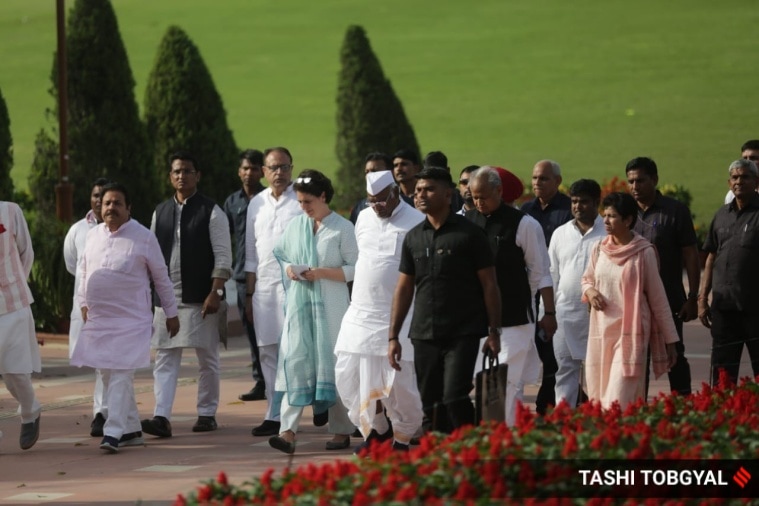 Congress President Mallikarjun Kharge and senior Leaders Priyanka Gandhi,Ashok Gehlot, Adhiranjan Choudhary, and others leave after paying homage to Mahatma Gandhi on concluding the party's Sankalp Satyagraha at Rajghat in New Delhi on Sunday. (Express Photo by Tashi Tobgyal)
Here are the top quotes from Priyanka Gandhi's speech at the satyagraha today:
📌 "My father's dead body was under this tricolour, and my brother was following him, you insult that martyr in the Parliament. You call the martyr's son Mir Jafar, you point fingers at the Nehru family. You insult the Kashmiri tradition where a son uses his father's surname," Gandhi said.
Vandita Mishra writes | Rahul's disqualification as MP is political and that's where the problem begins — for Rahul
📌 "My family has shed blood for this country.. this Tricolour.. this land.. Iss dharti mein unka khoon hai, is desh ke loktantra ko mere parivaar ke khoon ne seecha hai(Their blood is in this land, this country's democracy was nurtured by their sacrifices)."
📌 "My brother went to PM Modi and hugged him in the Parliament and said he has no hatred for you. We might have different ideologies but we do not have the ideology of hatred."
Advertisement
📌 "You (BJP) talk about 'Pariwarvaad', I want to ask who was Lord Ram. Was he 'Pariwarvaadi', or were the Pandavas 'Pariwarvaadi' just because they fought for the values of their family? Should we be ashamed because our family members fought for the people of the country?" she said.
Most Read 1 Gadar 2 box office collection day 4: Sunny Deol film records biggest Monday collections of all time, nets a total of Rs 173 cr 2 Bigg Boss OTT 2 Finale Live Updates: Elvish Yadav wins Salman Khan's show, Abhishek Malhan shares message from hospital 3 Happy Independence Day 2023: Wishes Images, Whatsapp Messages, Status, Quotes, and Photos 4 OMG 2 box office collection day 4: Pankaj Tripathi-Akshay Kumar film delivers better Monday than opening Friday, earns Rs 55.1 cr 5 Jailer box office collection Day 5: Rajinikanth film set to cross Rs 350-crore mark worldwide on Independence Day Also Read | Rahul Gandhi changes Twitter bio to 'Dis'Qualified MP' after disqualification from Parliament
📌 "The prime minister of this country is a coward. Slap a case on me, send me to jail. But the truth is that the prime minister of this country is a coward … he is hiding behind his power, he is arrogant. This country has an old tradition, Hinduism has an old tradition … ahankaari raja ko janta jawab deti hai(the public will respond to the arrogant ruler)."
इस देश का प्रधानमंत्री कायर है।

: 'संकल्प सत्याग्रह' में @priyankagandhi जी pic.twitter.com/1gOyWTE4Es

— Congress (@INCIndia) March 26, 2023
📌 Attacking the government on the Adani issue, she said, "Are you not able to see that your entire wealth is being looted? It is being given to one person, it is being given to a handful of industrialists. Whose wealth is this? Is this Rahul Gandhi's wealth? This is your wealth … the PSUs built for you are being sold to them, given to them one after the other. Your employment comes from these PSUs, small businesses, and small traders … No big Adani can give you jobs, they will only snatch away your jobs."
Explained | Rahul Gandhi disqualified: What this means, what happens next?
📌 "Open your eyes, this entire government, the ministers, MPs … why are they trying to save one man? What is in this Adani that you are giving the entire country's wealth to him? That you get rattled when his name is taken," she said.
Also Read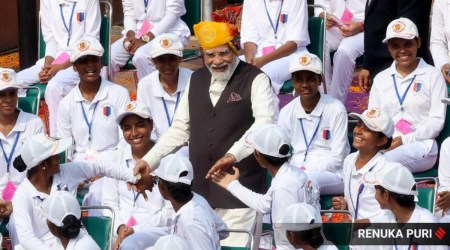 Narendra Modi Independence Day Speech Live Updates: India now identified ...
Govt SOP for Judges: Do not name officials for court panels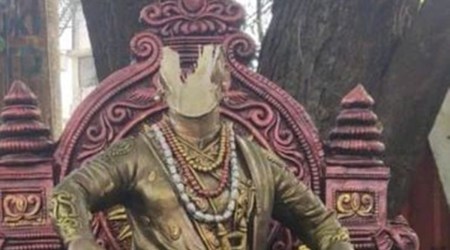 Shivaji statue vandalised in Goa, police initiate inquiry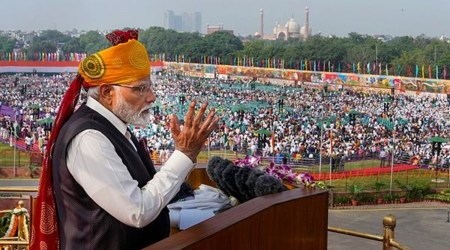 'Will return to Red Fort next year': In Independence Day speech, PM Modi ...Advertisement
📌 "Rahul Gandhi has done masters from the world's two top institutions–Harvard and Cambridge. And you made him pappu. Then you came to know that this 'pappu' has embarked on a yatra and it became known that he is not a pappu … lakhs of people are walking with him, he is honest, he understands things, he is going to the people, listening to their problems … and people are walking with him … they got scared."