SINCE 2014, there has been a conscious effort to correct the neglect that the Northeast suffered from, said Hardeep Singh Puri, Minister of Petroleum and Natural Gas and Housing and Urban Affairs Friday.
He was speaking at the launch of Delhi's Principal Secretary of Transport Ashish Kundra's book, 'A Resurgent Northeast: Narratives of Change' (Rs 399, HarperCollins) in New Delhi. Also present at the launch were Kiren Rijiju, Union Minister of Law and Justice; Pema Khandu, Chief Minister, Arunachal Pradesh; Amitabh Kant, G20 Sherpa; and Puneet Chhatwal, MD and CEO, IHCL.
"This book is my personal tribute to the amazing grace of a place. I was welcomed by the people of the Northeast. I've tried to pen down the unfiltered voice of people there. Perfect strangers opened their hearts to me with ease. Earlier, mainstream media had no space for the region, barring a cataclysmic event. But now that's changed. Ministers are travelling to its farthest corners regularly. Today we are celebrating the emergence of a region that's been in the dark for so long," said Kundra, speaking of what motivated him to write the book.
It was at the turn of the new millennium, when Northeast was in the middle of a political churn, that Kundra, then a young civil servant, was first posted in Mizoram. He would return to it in 2018 again, to a state quite changed. The earlier "undercurrent of hostility" was no longer palpable. Instead, he saw a resurgent region embracing hope. "The youngsters there are children of the digital age," said Kundra, "They are restless for change. A spirit of enterprise has engulfed the Northeast. This is a time for the Northeast," he said.
Puri said, "Processes that have been unleashed after 2014 have produced concrete results on the ground. There's been a conscious effort to correct the neglect of the region. Since 2017, there's been a 74 per cent reduction in insurgency, 60 per cent reduction in attacks on security forces, 89 per cent reduction in civilian deaths… The PM has visited more than 50 times in the last eight years. There's been a massive increase in budgetary allocation."
Rijiju, who hails from Arunachal Pradesh, said, "Integration is not only about connecting through physical infrastructure, it's also an emotional question. When it comes to restrictions there, there are security and social angles. Most of the Northeast borders other countries and only two per cent is physically connected to the rest of the country. We were prisoners of our own frontiers."
Most Read 1 Gadar 2 box office collection day 4: Sunny Deol film records biggest Monday collections of all time, nets a total of Rs 173 cr 2 Bigg Boss OTT 2 Finale Live Updates: Elvish Yadav wins Salman Khan's show, Abhishek Malhan shares message from hospital 3 Happy Independence Day 2023: Wishes Images, Whatsapp Messages, Status, Quotes, and Photos 4 OMG 2 box office collection day 4: Pankaj Tripathi-Akshay Kumar film delivers better Monday than opening Friday, earns Rs 55.1 cr 5 Jailer box office collection Day 5: Rajinikanth film set to cross Rs 350-crore mark worldwide on Independence Day
"Before 2014, I was a young MP. I would shout to tell the government that we require basic infrastructure… The government said there's a security concern to develop up to the border area. But the policy is reversed now. Every border point is well connected," Rijiju said.
Khandu said, "Communication has been a bottleneck in Arunachal Pradesh. After 2014, the scenario has changed. From Independence to 2015, we had 20,000 km of road network, but we've built an additional 20,000 km since. Our highways are fantastic. Along the foothills of Assam, more railway tracks are being built. The railways will change the scenario of the Northeast. Three airports are operational in Arunachal Pradesh."
Kant said the changes have also opened the region up for tourism. "From Dibrugarh (in Assam) to Pasighat (in Arunachal Pradesh), connectivity is great now. These are experiential destinations. The local art and culture must flourish there. It should be a unique boutique destination."
Also Read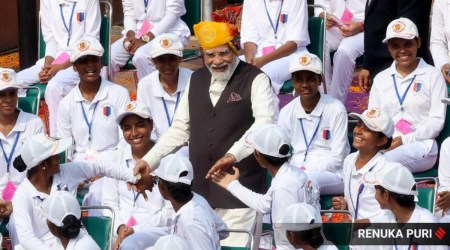 Narendra Modi Independence Day Speech Live Updates: India now identified ...
Govt SOP for Judges: Do not name officials for court panels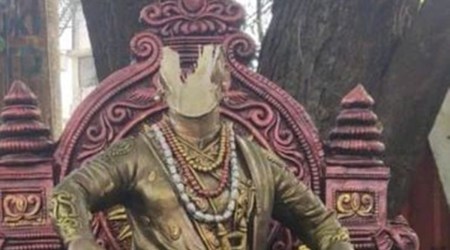 Shivaji statue vandalised in Goa, police initiate inquiry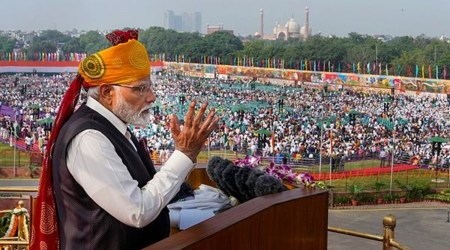 'Will return to Red Fort next year': In Independence Day speech, PM Modi ...
The evening also included a performance by Tetseo Sisters, a folk music group from Nagaland. They were joined onstage by Shibani Kashyap.
© The Indian Express (P) Ltd