India and the United Kingdom are having detailed discussions over sharing technical know-how and experience on maritime electric propulsion systems to meet future requirements of Indian warships, UK's Chief of the Defence Staff Admiral Sir Tony Radakin said Wednesday.
Both countries, Admiral Radakin said, are looking at increasing cooperation and strengthening relationships in logistics, technology and information sharing and are also in talks over a training pact that will allow the armed forces of both countries to share common ethos and basis to come together across the domains of land, air and maritime.
Admiral Radakin said this during an interaction with a small group of journalists. The top UK military officer, who is on a three-day visit to India, met top Indian military officials to discuss. His visit comes amid a series of high-level military interactions between the two countries.
The Royal Navy, British Army, and Royal Air Force have been carrying out exercises with their Indian equivalents this year, developing interoperability and joint tactics.
Admiral Radakin's comments are significant because Indian naval warships at present do not have electric propulsion systems and the Navy is looking to induct them in its future warships. The Queen Elizabeth Class aircraft carriers of the UK Royal Navy are integrated full electric propulsion vessels.
The countries have set up a joint electronic propulsion working group that met in the UK in February and a delegation met again on HMS Lancaster when the frigate ship was in Kochi last month and discussions are at exploratory stage now.
"We've been on that journey for 20 years and the relationship that we have with India means that India does not have to go through a 20-year journey. We can accelerate India to where we are today. And that is what we are doing," he said, adding that it reflects the strong relationship shared by the two countries.
Advertisement
He said that there is also the prospect of having Indian engines in Indian jets assisted by UK technology, which he added, is the best in the world.
The UK has offered advanced core technologies to India to create an indigenous ITAR-free jet engine, which is now owned, manufactured and exported by India.
Responding to a question from The Indian Express on planned future military engagements with India, particularly in the Indo Pacific, he said the UK will continue strengthening its maritime activities in the region over the next few years.
Advertisement
He  added that there is an ongoing debate on where it will deploy its new frigates once they are ready in the next few years.
"And the anticipation is that some of those will be in the Indo-Pacific. So, that is significant," he said, adding that the UK will operate two littoral response groups—one at the Euro Atlantic region and the other on the Indian Ocean Region.
The UK's interest in the Indo Pacific is visible with the Royal Navy's offshore patrol vessel HMS Tamar sailing to the Andaman and Nicobar Islands in January as part of its permanent deployment in the region. It had also conducted a maritime exercise with the Indian Navy and made multiple port calls in India earlier this month.
Stating that there is already a shared understanding with India on logistics, he said both countries are looking to engage in other areas, including training their militaries together.
The logistics pact between India and the UK was seen to be put to effect during the visit of the IAF to Exercise Cobra Warrior where IAF pilots flew five Mirage 2000 fighters and during the recent visits of HMS Tamar and HMS Lancaster to India. HMS Lancaster visited Kochi last month to train with the Indian Navy as part of the Konkan exercise.
Advertisement
Asked if China featured in the conversations he had with the military leadership in India, he said China is a "systemic competitor", adding that there are, however, opportunities irrespective to collaborate on trade or fighting climate change.
However, he said the UK and India value territorial integrity and the sovereignty of nations. "And when we have those shared values and interests, we should be clear in articulating those to the world," he said.
Advertisement
Talking about AUKUS  (a security pact between Australia, the UK, and the US), he said the grouping is an example of nations with strong relationships, shared interests and values coming together, where there would be information and technology sharing in areas of artificial intelligence, quantum computing, cyber or machine learning, aside from nuclear.
Last month, the US, UK and Australia made public their plan to create a new fleet of nuclear-powered submarines which is aimed at tackling the growing Chinese influence in the Indo-Pacific region. Australia will get at least three first nuclear-powered submarines from the US under the pact.
Most Read 1 Gadar 2 box office collection day 4: Sunny Deol film records biggest Monday collections of all time, nets a total of Rs 173 cr 2 Bigg Boss OTT 2 Finale Live Updates: Elvish Yadav wins Salman Khan's show, Abhishek Malhan shares message from hospital 3 Happy Independence Day 2023: Wishes Images, Whatsapp Messages, Status, Quotes, and Photos 4 OMG 2 box office collection day 4: Pankaj Tripathi-Akshay Kumar film delivers better Monday than opening Friday, earns Rs 55.1 cr 5 Jailer box office collection Day 5: Rajinikanth film set to cross Rs 350-crore mark worldwide on Independence Day Advertisement
He added that AUKUS is a good example of flexible arrangements with countries and there is likely to be more such flexible arrangements of countries coming together in the future.
Later this month, the Indian Army will train with the British Army as part of Ajeya Warrior exercise.
Also Read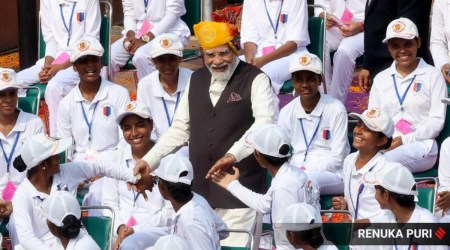 Narendra Modi Independence Day Speech Live Updates: India now identified ...
Govt SOP for Judges: Do not name officials for court panels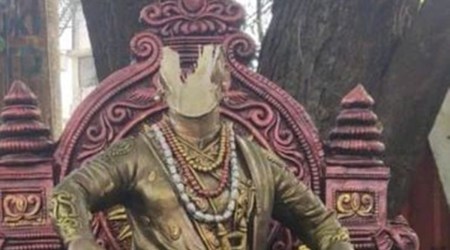 Shivaji statue vandalised in Goa, police initiate inquiry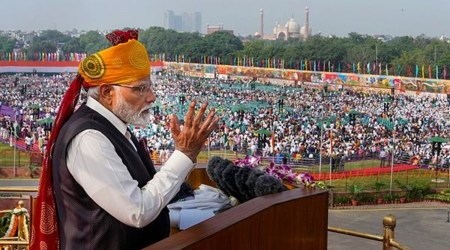 'Will return to Red Fort next year': In Independence Day speech, PM Modi ...
"The visit of two of the senior-most officers of the UK's armed forces exemplifies the importance with which the UK holds its defence and security partnership with India," the British High Commission had earlier said in a statement, referring to the ongoing visit of the Chief of the Air Staff of the Royal Air Force, Air Chief Marshal Sir Mike Wigston.
© The Indian Express (P) Ltd